We finish our tour of the NFC with a look at the North, which had 3 teams with 10 or more wins last season. Can the Lions bounce back from a down year? Will the Vikings three first round draft picks make a big difference? Will a CFL coach make an impact and get the Bears back to the Super Bowl? Or can the Green and Gold from the frozen tundra of Lambeau Field keep up their domination and be heading back to the Super Bowl?
Chicago Bears
Jay Cutler (Photo from smokinjaycutler.tumblr.com)
The Chicago Bears biggest move this offseason wasn't the addition of Marc Trestman from the Montreal Alouettes of the Canadian Football League. No, it was the addition of some key offensive linemen who will finally protect Jay Cutler. Oh ya, and letting go some middle linebacker who had been the face of the franchise. Let's get to Jay Cutler first though, and the celebration he must be having at finally having a solid offensive line to protect him with the signing of Jermon Bushrod from New Orleans and the drafting of Kyle Long in the first round. Both should improve this line from terrible to better then average. Cutler should have a big year because of this. In a contract year, expect him to light it up especially if All-Pro running back Matt Forte can stay healthy and bounce back this year. New coach Trestman will open this offense up and be an attacking style team. If you look at his work in the CFL, expect Forte to be heavily involved in catching the ball out of the back field. The receivers for Chicago will be led by another All-Pro in Brandon Marshall, who should continue to be on of the best wide outs in the game. The Bears have to hope Alshon Jeffery can step up and have a bigger role in the offense in his second year in the league. The tight end position should be fine with Martellus Bennett signed in free agency to be the starter. A good pass catcher and blocker, Martellus is a solid option at tight end.
Julius Peppers (Photo from suntimes.com)
The defense - even with the lost of Brian Urlacher - will still be solid. Having two All-Pros on your defensive line is a good place to start. Julius Peppers and Henry Melton are two of the best in the game at getting at the quarterback. Melton will be especially motivated this year after being franchise tagged, and a great season will just bring in the dollars in free agency - and this kid is worth every penny he is going to get. At line backer, D.J. Williams comes over from Denver to man the position Urlacher has been playing for over a decade and will be a solid replacement in the Cover 2 scheme the Bears use. Lance Briggs has still got it for an old man, and still will be counted on to be the new official leader of the defense and continue to come up with big plays. This secondary is a bit underrated I think. They don't get the national exposure of say Seattle or now Tampa Bay, but Tim Jennings and Charles "Peanut" Tillman are one of the best corner tandems in the game. Safety Chris Conte is underrated in my eyes. He's a solid tackler and the man makes plays. I think the Bears can win 9-10 games, but in this tough division and conference, that may not be enough to sneak into even a wildcard spot this year.
Detroit Lions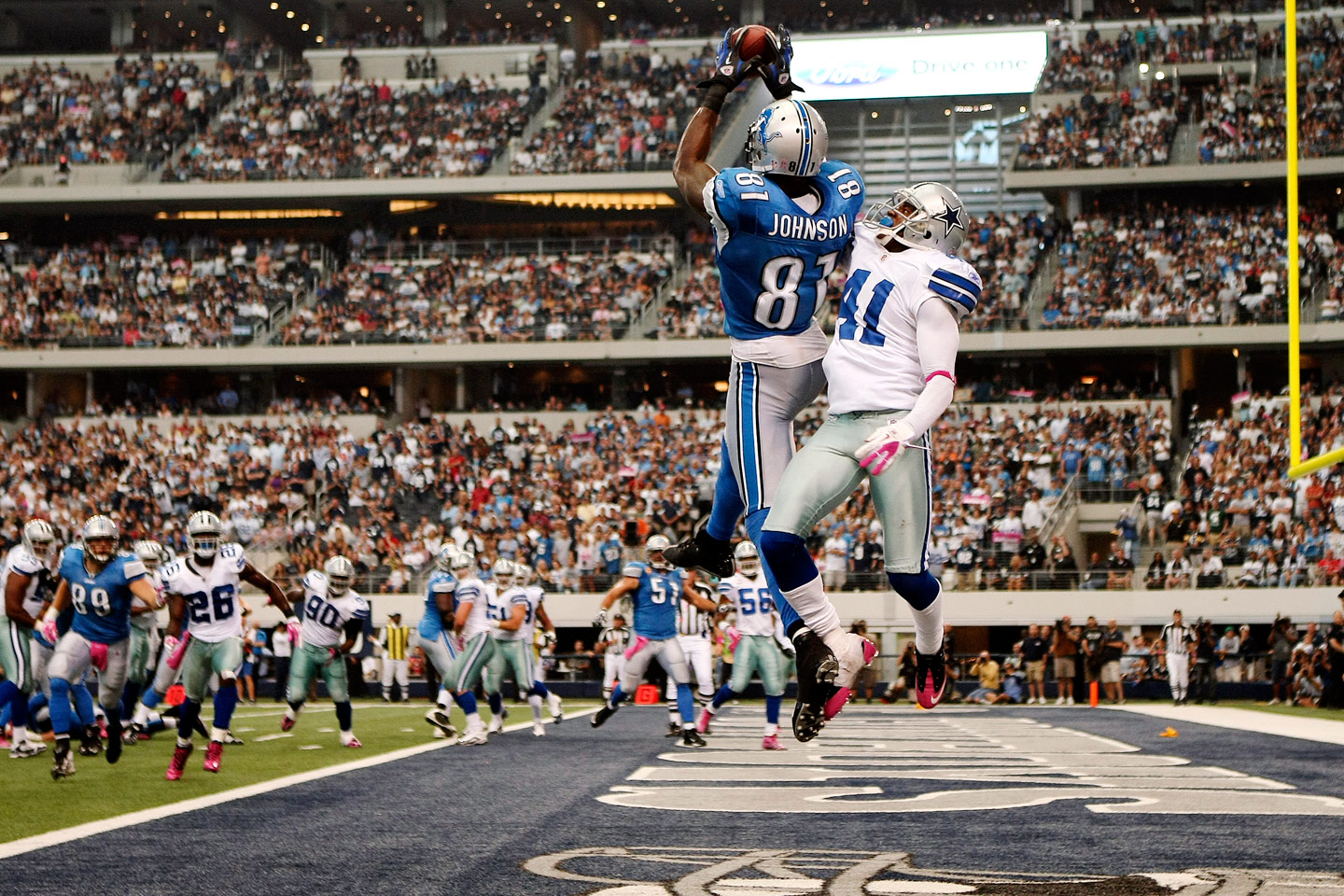 Calvin Johnson (Photo from espn.com)
Coming off a 4-12 year, the Lions should be able to rebound to a better record - closer towards the 8-8 territory. Matthew Stafford, fresh off his new extension, should have another big year again. Now the Lions have a legit weapon in the back field in free agency signing Reggie Bush from Miami. The addition of Bush to the team gives the Lions a proven runner for the first time in a couple years. With his ability to catch the ball out of the backfield, teams will have to account for a pass out to the flats and short yardage with the ability to bust it out. Making teams play back on their heels will certainly help Megatron - Calvin Johnson - have another big year. Maybe not record setting like last year, but certainly just as close. Ghe big question will be if another wide receiver like Nate Burleson or Ryan Broyles can step up and take heat off the big man and give Stafford another legit option on the outside. If not, the duo of Brandon Pettigrew and Tony Scheffler give a great 1-2 punch at tight end, both being pass catching threats, especially Scheffler down in the red zone. The offensive line will have to play better this year to help the offense out. The addition of big Larry Warford from Kansas in the third round will definitely help.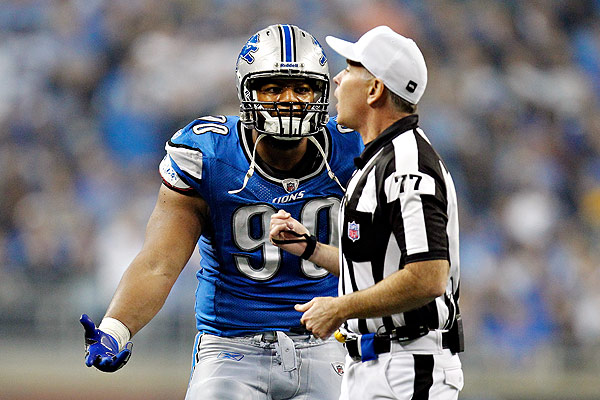 Ndamukong Suh (Photo from espn.com)
On the defense, there are big changes along the outside of the defensive line. Top draft pick Ezekiel Ansah joins Jason Jones - who is coming over from Seattle in free agency - to rebuild this line who lost Cliff Avril and Kyle Vanden Bosch in the offseason. Both players should be an improvement on each man they are replacing, but only if Ansah can live up to his draft selection. In the middle, Ndamukong Suh and Nick Fairley are two über-talented players who have to keep their emotions in check. If they can, this combination can be one of the premier defensive tackle duos in the league. The line backing core of the Lions is very underwhelming. The presence of Stephen Tulloch is the only thing keeping these guys from being one of the worst in the league. Tulloch is a missile on the field: very rangy and a great tackler. The secondary has the potential to be a decent group if second round pick Darius Slay can crack the starting line up and play well. Chris Houston is a solid starter, but is more of a guy you would feel more comfortable throwing on a teams number two wide out. Glover Quin coming over from Houston in the offseason will be a great pairing with Louis Delmas to give the Lions a solid combination at safety. The Lions just need Delmas to get over the injury bug and get an entire full season out of him for this secondary to succeed.
Green Bay Packers
Aaron Rodgers (Photo from profootballrosters.com)
In the frozen tundra of Lambeau Field, the Packers should remain the top dogs in the division. I predict 11 wins, but they will have a tougher go this season to remain on top. Aaron Rodgers - another quarterback who got his money this offseason - is the clear leader of this team, and one of the top quarterbacks in the game. This offseason, the Packers finally went out and got him some potential legit running backs for the first time. With the drafting of Eddie Lacy and Johnathan Franklin in this years NFL draft, the Packers have a nice 1-2 punch they can throw at rival teams. Lacy is the thunder to Franklin's a lightning. This duo should put other teams on notice that Green Bay can run it down your throats if they want to. They won't though because they still have one of the top passing attacks in the league, even without Greg Jennings. Randall Cobb, Jordy Nelson, and James Jones are just playmakers for Rodgers, especially Cobb who's elusiveness can bust out big plays at anytime. The Packers will need a better year out of Jermichael Finley, who struggled last year and fell out of favour as one of Rodgers go-to guys. The offensive line is going to need to shore up this year. Last year, they had Rodgers getting hit left and right. But with the addition of an actual running attack, teams will have to respect the run and not just send the dogs at Rodgers knowing a pass is coming.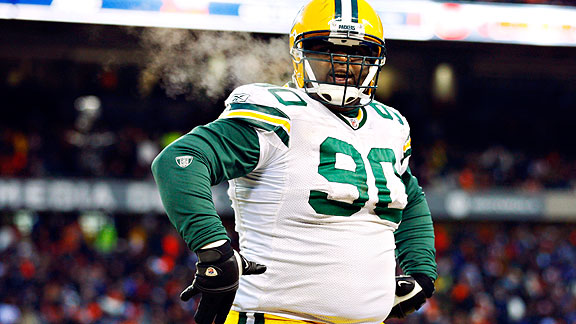 B.J. Raji (Photo from espn.com)
The Packers defense comes back pretty much intact from last year, but with the addition of first round pick Datone Jones to play on the defensive line. Mostly known for rushing the passer, Jones should be able to hold up well in the 3-4 system the Packers play. B.J. Raji and Ryan Pickett are solid 3-4 defensive linemen and space eaters. Those space eaters allow the line backers to get to the quarterback and, with outside linebacker Clay Matthews, that happens very often. Yhe line backers are a very good group, with former first round pick AJ Hawk and Nick Perry being solid players. other inside linebacker Brad Jones is serviceable next to those gentlemen. Tramon Williams, Sam Shields, and Casey Heyward make a very solid combination at corner, with Heyward being put into more of a slot role this year. With Shields coming back, look for even more big plays from Heyward. Safeties for the Packers are unspectacular, but the corners make up for their deficiencies.
Minnesota Vikings
Christian Ponder (Photo from twincities.com)
This season for the Vikings and a return to the playoffs will not rest on All Day Adrian Peterson. It will rest on the arm of Christian Ponder and his ability to bring balance to the offense so Peterson can do his thing without nine people being in the box. He now has the weapons in former division-rival from Green Bay Greg Jennings coming over to the Vikings, and one of three first round picks Cordarrelle Patterson now manning the receiver position. So, he has his weapons on the outside. With his two solid pass catching tight ends in Kyle Rudolph and John Carlson, the excuses are gone. Ponder must produce or will be reduced to the bench or free agency, especially with a great class of quarterbacks coming out in this year's draft. The offensive line is anchored by Matt Kalil and is full of road graters who will open up massive holes for their All-World running back.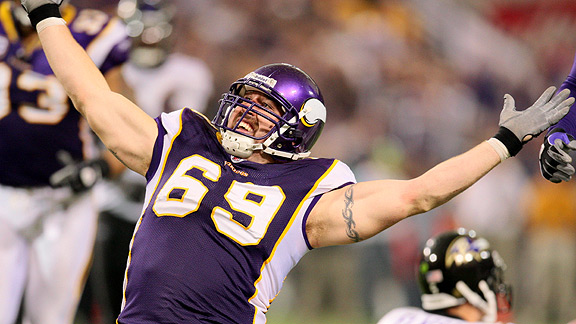 Jared Allen (Photo from espn.com)
Sharrif's Floyd slide from potential top 5 pick to 23rd overall is a blessing in disguise for this former Florida defensive tackle. Granted, he loses out in millions of dollars. But sliding in next to another stud tackle in Kevin Williams can do nothing but make this kid better. Floyd has plenty of pass rush ability and with Jared Allen on the outside, this line can be incredibly formidable. Look for Allen to take another run at the sack record this year. The line backers lead by Erin Henderson and Chad Greenway are a great group who are solid at the line, but struggle a bit in coverage. They will be joined by 4th round pick this year Gerald Hodges to make a solid group, making the front 7 a very strong group. The 3rd of the Vikings first round picks Xavier Rhodes will combine with Chris Cook and A.J. Jefferson to give them a bunch of young corners with a lot of potential. If they can live up to that, it will make the entire defense much much better. If they struggle, look for more pressure to be on the front 4 to get things done. Harrison Smith out of Notre Dame was one of the more pleasant surprises last year in the league, playing exceptionally well. He will be a Pro Bowl player one day in this league. I expect a 6 to 7 win season for the Vikings this year, and a new quarterback next year with them selecting one of the great quarterbacks coming out next year.
That is the end of the NFC. Now on to the AFC.
Up first will be the AFC West, where the Denver Broncos will hope to repeat at division champions and make another attempt to get Peyton another ring. Can the Kansas City Chiefs - a team with the worst record in the league last year - bounce back to sneak into a playoff spot? Will a new head coach get the San Diego Chargers back being Super and in to the playoffs? Can the Oakland Raiders make that next step from bottom of the division to even third?
I will let you know.
Be sure to follow the new
Sports by Schmucks Twitter
for updates on when new articles will be posted. We've also started to live tweet some games and events. You never know which game we'll do. Plus, we added a
YouTube channel
. Make sure to subscribe to get our latest videos and podcasts.