The NFC East - the bright lights of the NFL shine on this division much more than any other. Many of the NFL's glamour teams reside here: America's Team, a two-time Super Bowl champion in the last decade, an offensive genius coming from the college ranks, and the electric RG3. The NFC East has it all, and especially has a lot of questions about each and every team. So lets take a look.
Dallas Cowboys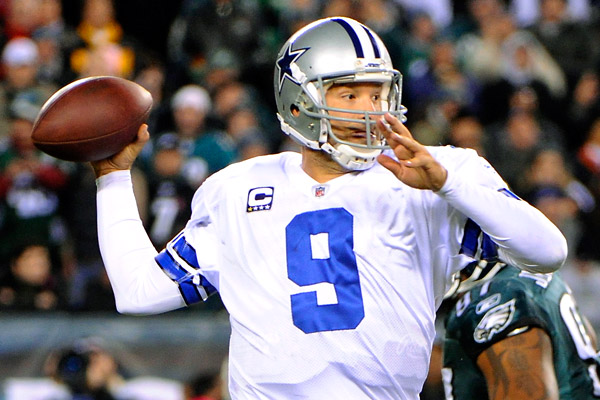 Tony Romo (Photo from espn.com)
Well, America's Team certainly had an interesting offseason. Between changing their defensive schemes to having a very interesting draft to say the least, let's see how Dallas measures up coming into this upcoming season. At quarterback, freshly-paid Tony Romo will have even more pressure thrown on top of him after signing a six-year, $108 million contract. Romo better lead the Cowboys back to the playoffs and win at least a game this year or the media will be all over the Cowboys and Jerry Jones for giving such a rich contract to someone who cannot win a big game come playoff time. Romo has to stop having his late season collapses to finally break his image as someone who cannot handle the pressure. Hopefully getting a full, healthy season out of running back DeMarco Murray this season will help. When healthy and on the field, Murray is a game changing back capable of taking a run to the house at any time. But, health is always an issue for Murray. The Cowboys do not have any great back-ups for Murray, so Murray better stay healthy or look for Romo to suffer the consequences. The receivers are a question mark for this team. They have talented - but pain in the neck - wideout Dez Bryant, and Miles Austin for Romo. Bryant is one of the best wideouts in the game if he is focused, but has constant outside distractions. Last year was his big break out season. I expect him to grow on that if he stays focused and in the game. Austin has to get back to his form from a couple years ago when he busted out because the depth behind them doesn't have very many proven players. Watch out for Cole Beasley. He's going to get a lot balls thrown his way this year. At tight end, the ageless wonder Jason Witten will have some assistance in this year's 2nd round pick Gavin Escobar. This duo will be a hard pair to cover and will cause many mismatches. Look for a great year from both. The offensive line should be better then last year with Tyron Smith getting another year of experience under his belt. With the addition of surprising first rounder Travis Frederick to anchor the line at center for Romo, they should not be as inconsistent as last years group who allowed 36 sacks, and couldn't get any push for any running back last year.
DeMarcus Ware (Photo from Dallas Observer)
The biggest change with the Cowboys is switching from there 3-4 attacking defense to a Cover-2 4-3 defense under the master Monte Kiffin. The defensive line should be solid with DeMarcus Ware being moved to defensive end in the scheme, allowing him to solely focus on rushing the passer without having to drop into coverage. Anthony Spencer had a solid year last year and should be just as effective this year with Ware rushing the passer full time. Tackles Jay Ratliff and Jason Hatcher will be solid up the gut in the middle against the run, but they will need to get pressure up the middle to be successful in the Tampa 2 scheme. Sean Lee, Bruce Carter, and Justin Durant make a fantastic group for Dallas to build around. Lee and Carter are both built for this scheme: rangy, athletic, and have great ball skills to excel in the Tampa 2 defense. The secondary will have to step up this year playing in mostly zone coverage. Morris Claiborne and Brandon Carr will have to play extremely effectively for this defense to stop anyone. Safeties Will Allen and Barry Church will have to play well this season for Kiffin's defense. The safeties need to be playmakers. The 'Boys will have it rough in the NFC East this season. I do not expect the Cowboys to play up to owner Jerry Jones' standards, and coach Jason Garrett to be let go. Six wins for America's team.
New York Giants
Eli Manning (Photo from Village Voice)
The Super Bowl Champions of two years ago are still fill steam ahead towards another Super Bowl run. But do the Giant's have enough to make it to another Lombardi trophy? The quarterback position for the Giants is all set with Super Bowl MVP Eli Manning at the head of the team. Solid, reliable, and efficient, Eli is the unquestioned leader of the Giants this year. The wide receiver position is set with the resigning of Victor Cruz, and the return to health of Hakeem Nicks. Keep an eye out for Rueben Randle to have a big year as well. The signing of Brandon Myers to play tight end was an under-the-radar pick up. Myers is a solid blocker and good in the passing game which should help Eli out tremendously. David Wilson had a break out last couple games in 2012 for the Giants, who are hoping that their first round pick from last year is going to break out like Doug Martin from Tampa Bay did last year. The depth chart behind him is a bit sketchy, but serviceable. The offensive line should be solid if not unspectacular. The addition of first round pick Justin Pugh should help with his versatility on the line if he does not win a starting job out of camp.
Justin Tuck (left) and Jason Pierre-Paul (right) (Photo from nj.com)
The Giants' defense is going to have to rely on their front four to carry the weight this year, because the line backers are unproven and the secondary has talent but needs to step up and show maturity and play up to potential. Losing Osi Umenyiora in the off season hurts the depth of the defensive line, but if Jason Pierre-Paul and Justin Tuck can get back to playing to their ceilings, the line will be fine. JPP especially needs a bounce back after his down season last year. I fully expect both defensive ends to get into the 10+ sack territory. The tackles should be solid, especially with drafting Jon Hankins in the 2nd round this year. They have depth and talent at the position. It won't be a worry for the team. The line backers are lead by... well, no one really. There is no stand out talent in the line backing core, just a bunch of average fellas who won't scare anyone. Secondary outlook for the Giants is they have young talent in Prince Amukamara and a veteran presence in Corey Webster, which should be a solid pairing if Prince can live up to his first round pick in 2011. He has the talent and the size, but has yet to put together a solid showing. The safeties, lead by Antrel Rolle, are solid but unspectacular. As long as they are not being beat by the big play, the safety position will be fine. I see an eight win season ahead for the New York Football Giants.
Philadelphia Eagles
Chip Kelly (Photo from emory.edu)
I am having a real hard time deciding how the Eagles are going to end up this year with so many questions about the team. Chip Kelly becoming head coach and bringing his uptempo offense to the NFL, Mike Vick being healthy and in a QB competition with Nick Foles, and the defensive switch to the 3-4 brings up a lot of interesting questions. Let's start off at quarterback with Vick and Foles. I fully believe Vick will be the starter coming out of camp, but with his history of injuries, watch for Foles to close out the season. If healthy, in this offense, Vick will be an extremely dangerous man with the option and the weapons he has around him. With LeSean McCoy being back and healthy, if the option is going to be used, look for the Eagles to possibly even out pace the 49ers with the running game this year. This offense could be scary, but until they get on the field no one knows. Bryce Brown will be a solid back-up to McCoy this year, as long as he can get his fumbling under control. The receivers and tight ends will be solid with Jeremy Maclin and DeSean Jackson on the outside, and new pick up from Tampa Bay Arrelious Benn in the slot. Zack Ertz and Brent Celek will be a fantastic duo of tight ends for Vick. Both are big athletic targets who will be dangerous in the end zone. With the return of Jason Peters to health and selection of Lane Johnson with their first round pick this year, this offensive line should be one of the top lines in the year.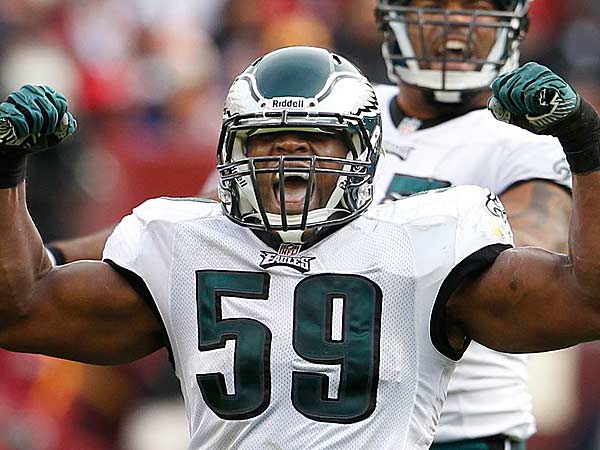 DeMeco Ryans (Photo from philly.com)
The Eagles are switching from a traditional 4-3 to a 3-4 this year, and I believe that they will have a fantastic front seven to anchor the team. Up front on the defensive line, Fletcher Cox, Clifton Geathers, and free agent signing Isaac Sopoaga will be a good front three to hold the line with plenty of depth behind them. The line backers are the bright spot of the defense, with another free agent signee Conner Barwin brought in to rush the passer alongside converted defensive end Trent Cole. they should make a formidable duo on the outside. DeMeco Ryans and Mychal Kendricks in the middle are a fantastic athletic pairing who should excel this season with running backs being funnelled their way. Both are good in coverage as well. The secondary will be the big question, with the entire starting secondary being overhauled. Until training camp begins, I can't really give to many predictions about how they will perform together. But nothing can be worse then last year, so expect a better showing this year with a big bounce back year from Patrick Chung. I see a seven to eight win season out of the Eagles. They are a solid team that might need another year to contend for playoff spot under Chip Kelly.
Washington Redskins
Robert Griffin III (Photo from espn.com)
Here is the team I am fully expecting to run away with this division this year - Robert Griffin or not. RG3 should be fine coming back from ACL surgery since he's already back on the field practicing with his team. When healthy, we all know he is a dynamic player who is a game changer. But if he can't get on the field, Kurt Cousins will be a fantastic replacement. I believe Cousins will be a starter very soon in this league. So if RG3 goes down, the Redskins will barely miss a beat. Alfred Morris had a breakout year last year in his rookie season, coming from nowhere to be the next in a long line of Mike Shanahan running backs to be the man. The depth behind Morris is solid with Roy Hulu and Evan Royster. The receivers for the Skins are solid veterans with the ability to create big plays. Santana Moss is ageless. Pierre Garcon and Josh Morgan are big play guys. Fred Davis is a great all around tight end who is a great pass catcher and blocker. I expect him to bust out this year and put up close to elite tight end numbers. The offensive line is solid with Trent Williams protecting the left tackle position. The rest of the line is just ok. As long as they can hold up and protect RG3, they are the position that will decide how RG3 plays and if he gets injured.
Brian Orakpo (Photo from blog.redskins.com)
The front seven of the Redskins is great. Barry Cofield, Stephen Bowen, and Jarvis Jenkins are a solid big front three who are space eaters, and good against the run. The line backers are the stars of this team, with All-Pro Brian Orakpo returning from injury and Ryan Kerrigan gaining another year of experience. These two make a deadly pairing rushing the quarterback. The quarterbacks of the NFC East should be shaking at Orakpo's return. The ageless wonder London Fletcher is back and is manning the middle again for the Skins. He has always been underrated and I think he's a future hall of famer. Fletcher is a tackling machine and with another solid tackler Perry Riley beside him, this line backing core is a favourite of mine with every member of the squad being solid. The weak part of the defense is the secondary with DeAngelo Hall being the star of the secondary. Josh Wilson is a solid starter beside him at the corner position, with Brandon Meriweather and Reed Doughty being average starters at safeties. Both are unspectacular with their play, but solid all around players. I expect the Redskins to win 11 and easily win this division.
Three NFC divisions down, one more to go. Up next another storied division, including the frozen tundra of Lambeau Field, the Monsters of the Midway, the reigning NFL MVP, and ... a bankrupt city. Last but not least, it's the NFC North next time.
Be sure to follow the new
Sports by Schmucks Twitter
for updates on when new articles will be posted. We've also started to live tweet some games and events. You never know which game we'll do. Plus, we added a
YouTube channel
. Make sure to subscribe to get our latest videos and podcasts.