Now that the dust has settled from free agency, it's time to look ahead to the upcoming NFL Draft on Thursday April 25, 2013. I decided to look at the first round and give my predictions on who is going where. You might want to grab a snack. This is a long one.
(If you want to see other NFL Mock Drafts, check out the
hailRedskins.com 2013 NFL Mock Draft
page.)
1. Kansas City Chiefs - Luke Joeckel (OT) Texas A&M
Photo credit: USA Today
With the Chiefs trading for Alex Smith, Geno Smith will not going here. Picking another potential stud offensive lineman to pair with Branden Albert - like
Luke Joeckel
- would make them a wrecking machine waiting to happen. Jamaal Charles would be able to run through the massive holes the line will be making and Smith will have all day to sit back and throw to newly resigned Dewayne Bowe. Joeckel is a stud tackle, but not quite at the Joe Thomas level. Think early Jake Long in Miami for a comparable.
2. Jacksonville Jaguars - Dion Jordan (DE) Oregon
Photo credit: The Daily Emerald
I don't think Geno Smith is worth the pick here for the Jaguars, who really do need to move on from Blaine Gabbert. Look for a quarterback at the top of round 2.
Dion Jordan
makes a ton of sense here. He has great pass rush potential for a team who really needs it after finishing dead last in sacks last season. Between him and a possible revitalization of Jason Babin after getting out of Philadelphia, that should help out Gus Bradley's new defense.
3. Oakland Raiders - Sharrif Floyd (DT) Florida
Photo credit: alligator.org
For once, the Raiders will not go for the fastest guy on the board. They will get a stud defensive tackle. After letting both of their starting tackles from last season go, they will need bodies to fill up the middle.
Sharrif Floyd
reminds me of a raw Gerald McCoy from Tampa Bay. Floyd will be great at penetrating the hole and being stout versus the run. He will struggle to begin with in Oakland with the lack of help around him, but has Pro Bowl potential.
4. Philadelphia Eagles - Dee Milliner (CB) Alabama
Photo credit: nflsfuture.com
Like the Raiders above, the Eagles let both of their starting cornerbacks from last year go off to free agency this year. They did sign Cary Williams away from the Super Bowl Champion Ravens, but they need another corner to help out on the back end.
Dee Milliner
has amazing upside with his size, athleticism, and talent. With having to face Tony Romo, Robert Griffin III, and Eli Manning in the NFC East, having a shut down corner that Nnamdi Asomugha was suppose to be should help that Eagles' defense.
5. Detroit Lions - Eric Fisher (OT) Central Michigan
Photo credit: gcobb.com
The Lions have two major needs: offensive tackle and defensive end. With that in mind,
Eric Fisher
from Central Michigan is my pick here. By making this pick, you are getting a stud left tackle to protect the blindside of Matthew Stafford while moving last year's first pick Riley Reiff to right tackle. This will also help out in the ground game by getting new addition Reggie Bush bigger lanes to burst through for big gains. Defensive end is also a big need here, so look for Ezekiel Ansah here potentially. But I think he is to raw to be spending the 5th overall pick on.
6. Browns - Xavier Rhodes (CB) Florida St.
Photo credit: Chicago Tribune
I'll start off by saying with Dee Milliner already being selected, I do not expect Cleveland to stay in the 6th pick. I expect the Browns to trade down for a team who wants to select Geno Smith or the last remaining stud offensive tackle, Lane Johnson. With that in mind though, I am not going to predict trades. So,
Xavier Rhodes
is the pick here. He will make a fantastic addition to the defensive to play opposite of Joe Haden. Like Milliner he has fantastic size, athleticism, and talent but is much more raw then Milliner but the potential is there for a solid starter for many years especially on the other side from Joe Haden.
7. Arizona Cardinals - Chance Warmack (OG) Alabama
Photo credit: rosterwatch.com
Arizona could go with
Chance Warmack
or offensive tackle Lane Johnson here. Either would be solid choices. I feel that Arizona has slightly better tackles than guards, so Warmack is the pick here. This man more closely resembles a mountain. He will help protect newly acquired Carson Palmer, and help open up lanes for Ryan Williams and Rashard Mendenhall.
8. Buffalo Bills - Geno Smith (QB) West Virginia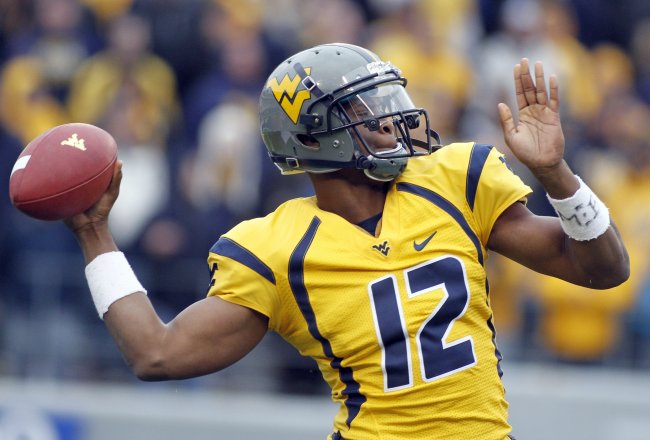 Photo credit: The Bleacher Report
Finally the first quarterback is off the board, and to a team who's been looking for next superstar quarterback since the great Jim Kelly.
Geno Smith
is a fantastic prospect: great arm, good scrambler, and just as good in the pocket. I think he is being a little underrated this year just because of Andrew Luck and RG3 in last year's quarterback class. Smith is not going to be those guys, but look for a stronger armed Russell Wilson as a solid comparison.
9. New York Jets - Ezekiel Ansah (OLB/DE) BYU
Photo credit: BYUCougars.com
Hopefully for the Jets this pick doesn't turn into Vernon Gholston 2.0.
Ezekiel Ansah
is a freak of nature athlete who can get to the quarterback. His measurables are off the chart. More suited as a defensive end in a 4-3, Ansah can but used as an outside linebacker in Rex Ryan's 3-4 defense. He is extremely raw when it comes to experience. But he will be going to a team that can potentially make him into Demarcus Ware -- if properly coached. Rex has his work cut out for him.
10. Tennessee Titans - Jonathan Cooper (OG) North Carolina
Photo credit: theacc.com
Even with adding Andy Levitre in free agency, guard is still an issue in Tennessee. Adding
Jonathan Cooper
from UNC will greatly help. Extremely athletic for a big man, Cooper will be a great help in the running game to help Chris Johnson get to the outside and run for big gains. Also a solid pass blocker will hopefully for Titans fans keep Jake Locker up right and getting the Titans back to pushing for AFC South title.
11. San Diego Chargers - Lane Johnson (OT) Oklahoma
Photo credit: gcobb.com
Poor Philip Rivers has been taking an absolute beating the last couple of seasons. Finally, he will start to get some help and protection here with
Lane Johnson
out of Oklahoma. The last of the stud tackles in this years draft he will help keep Rivers jersey clean. Having a great combine and Senior Bowl has launched Johnson to this pick. Great in pass protection will help get Chargers back to passing offensive they once were, look for a wide receiver in round 2 to help out even more.
12. Miami Dolphins - DJ Fluker (OT) Alabama
Photo credit: zimbo.com
Another Alabama product being taken here -- the third in the first 12 picks. Miami needs a new tackle with Jake Long moving on to St Louis in free agency and
DJ Fluker
will be a solid replacement. I see him starting at right tackle with Jonathan Martin being the starting left tackle. Like Chance Warmack, he is a big man who is a road grader. Look for him to be a strong presence on the strong side of the line and help Ryan Tannehill take the next step.
13. Tampa Bay Buccaneers - Star Lotulelei (DT) Utah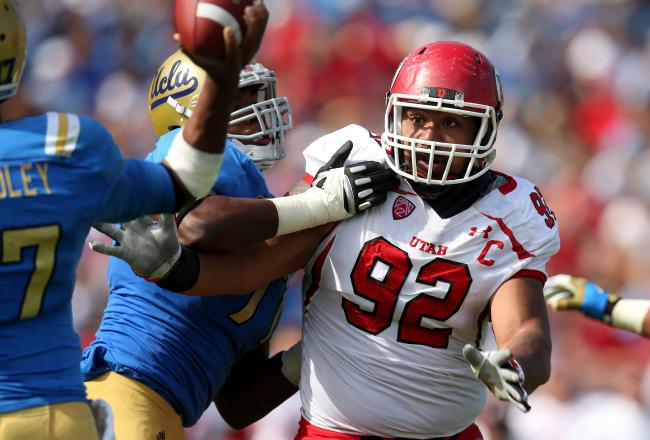 Photo credit: The Bleacher Report
I personally do not think Tampa will be picking here come draft day. I think the Jets will be making their second pick of the first round after making a trade for Darrelle Revis. Since I'm not doing trades,
Star Lotulelei
is the pick. This will make that Tampa defensive line even better. The number one team versus the run last year, that play will not drop off with Star on the line, will play NT for Tampa keeping offensive linemen off Gerald McCoy and the defensive ends while also providing pressure on the quarterback.
14. Carolina Panthers - Cordarrelle Patterson (WR) Tennessee
Photo credit: palmbeachpost.com
Oh boy. This pick will make Cam Newton that much more deadly and effective.
Cordarrelle Patterson
can be a great weapon across from Steve Smith in this offense, moving Brandon Lafell to the slot and making the criminally underrated Greg Olsen that much more effective. Patterson is another big deep threat that has the size and speed to stretch defenses. He catches the ball very well too. Experience will be Patterson's weakness here, but that will come with time. He might start slow next year, but will be a solid pick two to three years down the road.
15. New Orleans Saints - Jarvis Jones (OLB) Georgia
Photo credit: savannahnow.com
This pick will be a steal for the Saints, with
Jarvis Jones
slipping because of health concerns. A top 5 talent as long as his spinal issues don't flare up, Jones will be a great pick for the Saints. Moving to the 3-4 this season with Rob Ryan coming in as defensive coordinator, Ryan will need someone who can bring the heat. With most of the Saints linebackers being more coverage guys and not as much pass rushers, Jones will get after the quarterback on the outside. I'd compare him to a slightly less talented Aldon Smith. Jones will make an impact immedately on this defense.
16. St. Louis Rams - Tavon Austin (WR) West Virginia
Photo credit: baltimoresun.com
With the first of the two first round picks for the Rams, I have Tavon Austin going to help Sam Bradford out in the Lou. Think of him as Percy Harvin 2.0. He is a speedster with the ability to break open the game anytime he can get his hands on the ball. Austin will be a great slot guy for the Rams with newly acquired Jared Cook. Look for a big bounce back year from former first overall pick Sam Bradford.
17. Pittsburgh Steelers - Eddie Lacy (RB) Alabama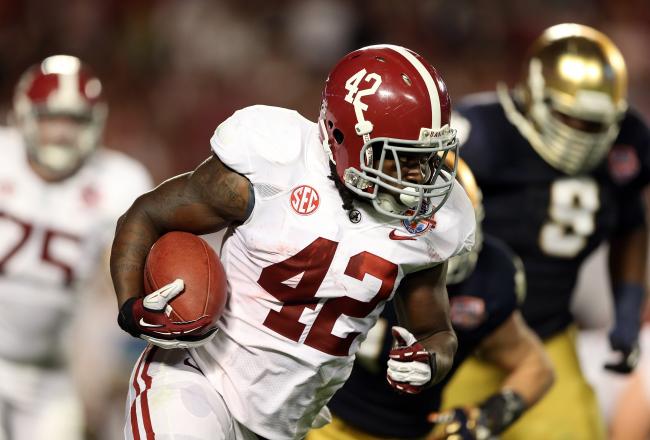 Photo credit: The Bleacher Report
Maybe a little bit of a shocker or an earlier pick then most would have Alabama running back
Eddie Lacy
going, but the Steelers current batch of runners do not inspire faith. Lacy would be a great fit in Pittsburgh. He's a solid downhill runner that can bruise and batter the opposing defense. Lacy has solid hands and is a capable blocker. Even though he is coming off an injury and a lackluster pro day, the pick should not worry Steelers faithful. Lacy will help Big Ben as a 3 down back.
18. Dallas Cowboys - Slyvester Williams (DT) North Carolina
Photo credit: buffalobillsdraft.com
With Dallas moving away from the 3-4, into a more traditional 4-3 and Cover 2 scheme of Monte Kiffen, Dallas will need a pass rushing defensive tackle. Only having more nose tackle type tackles,
Slyvester Williams
will be their man. Williams is athletic for tackle. His ability to get penetration reminds me of Henry Melton from Chicago. He will help America's team get more set up for the type of pass rush Kiffen likes to use to get to quarterback in his Tampa 2, using only the four down defensive lineman to get pressure.
19. New York Giants - Kenny Vaccaro (S) Texas
Photo credit: nflsfuture.com
The Giants could use a little help back in their secondary and this pick of
Kenny Vaccaro
will help solidify that back end. Vaccaro is solid in pass coverage and with dropping down into the box. He can handle any duty the Giants ask of him. Since he's very athletic, Vaccaro can cover a lot of ground, allowing the Giants' corners to be more aggressive and go for turnovers knowing Vaccaro will have their backs.
20. Chicago Bears - Desmond Trufant (CB) Washington
Photo credit: seahawks.com
I know the Bears already have 2 solid corners. But in a division with Matt Stafford and Aaron Rodgers, you need all the corner help you can get.
Desmond Trufant
is a ball-hawking corner if I have ever seen one. Playing on this extremely opportunistic defense of Chicago as a nickelback, Trufant can let the corners all play more aggressive in their Tampa 2 and go for the pick-six. This is a luxury pick, but the Bears are almost there -- especially after picking up a tackle to protect Jay Cutler
21. Cincinnati Bengals - Keenan Allen (WR) California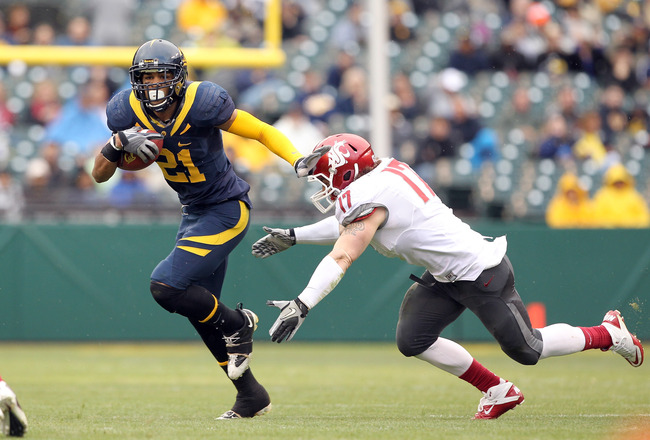 Photo credit: The Bleacher Report
Keenan Allen
will be a great addition to the Bengals. He'll help give their offense some more explosion, take some heat off A.J. Green, and make Andy Dalton more explosive. Bengals receiver Mohamed Sanu is a good wide receiver, but no team is going to be afraid of him going off for a big gain. Allen will be the guy on the other side of Green, making Sanu a solid, big-bodied slot receiver. Allen has good acceleration, size, and hands. He projects as more of a possession guy, lacking top end speed. But he can make this offense better. With, an already solid defense, look for a playoff push from the Bengals.
22. St Louis Rams - Alec Ogletree (OLB) Georgia
Photo credit: Patriots.com
Outside of James Laurinaitis, the Rams linebacking core is quite weak.
Alec Ogletree
is the selection using the pick they received from Washington in the RG3 deal. A versatile linebacker able to play the inside or outside, Ogletree will make their nickel package better. A sideline to sideline player, he is very rangy and can lower the boom when he wants. This pick makes a Rams team looking push for one of the wild card spots in the NFC much better.
23. Minnesota Vikings - Eric Reid (S) LSU
Photo credit: profootballcentral.com
A great safe pick who will play center field in the Vikings defense,
Eric Reid
was the safety valve for the great LSU defense. He allowed their play-making defensive players do their thing. A big hitter, Reid has good size and is great in run defense. However, Reid can be exposed by the elite tight ends he will be asked to cover in the NFL. He will make a solid pick to put next to Harrison Smith for years to come.
24. Indianapolis Colts - Manti Te'o (ILB) Notre Dame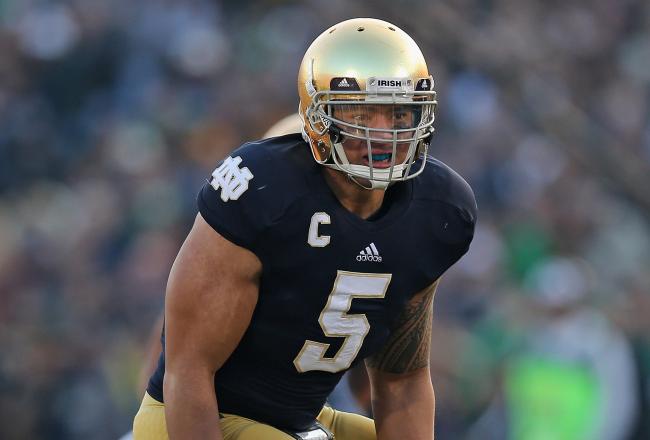 Photo credit: The Bleacher Report
We finally see the much hyped/ talked about
Manti Te'o
go -- to the Colts of all teams. The Colts have a need at inside linebacker, and while Alec Ogletree might be a better suit for them here, Te'o is not a bad consolation. A solid prospect, he is a student of the game. Te'o is a decent athlete that is better on the field in pads than he is off the field in shorts. A solid tackler who is good in coverage, he can solidify the inside of that Colts front-7 and will be helped out by his big interior line. He won't be dominated like he was in the BCS National Championship.
25. Minnesota Vikings - Bjoern Werner (DE) Florida St.
Photo credit: nflsfuture.com
With theoir 2nd pick in the first round, I have the Vikings taking FSU stand-out
Bjoern Werner
. A solid defensive end, Werner will create pressure and hold up against the run. He reminds me of Michael Bennett in Seattle, but with more athleticism. Werner will help take pressure off Jared Allen, letting Allen run free and take another shot at that sack record.
26. Green Bay Packers - Menelik Watson (OT) Florida St.
Photo credit: miamidolphinsdraft.com
Aaron Rodgers needs to be protected. The man took the most sacks in the league last year and still put up a MVP-calibre season. So the raw but talented
Menelik Watson
out of FSU is the pick here. He will fit in with the Packers, and being around a veteran organization will help his development. Watson has great athleticism, long arms and is a strong, mean son-of-a-gun. Give this man time and he can turn into a Pro Bowler...or a bust.
27. Houston Texans - Robert Woods (WR) USC
Photo credit: latimes.com
How long have the Texans needed another wide receiver to play on the other side from the great Andre Johnson? Well, they finally take
Robert Woods
out of USC to be that guy. This situation is very similar to the Cardinals taking Michael Floyd to protect Larry Fitzgerald from constant double teams. A very good route runner and play maker, Woods can open the field up for Johnson and Owen Daniels. Woods lacks explosive speed but makes it up with the previously-mentioned route-running.
28. Denver Broncos - Barkevious Mingo (DE) LSU
Photo credit: NFL.com
What a slide for
Barkevious Mingo
! From being talked about in the top 10-15 in most mock drafts, down to 28 in ours. But I don't think he minds the slide after being picked up by Denver. After losing Elvis Dumervil due to his crazy contract situation, the Broncos are going to need a pass rusher to replace him. Mingo will be a great replacement. He's a crazy athlete who will be able to get around the corner on most offensive tackles in the league. Since Mingo has more size than Dumervil, he will hold up better in the run game. But Mingo will still not be elite in that regard. Mainly a pass rusher, Mingo will make the Broncos forget that Elvis has left the building.
29. New England Patriots - Matt Elam (S) Florida
Photo credit: sportstalkflorida.com
New England has a terrible pass defense, but this pick paired with the addition of Adrain Wilson to the safety position will help. By selecting
Matt Elam
, it will allow Devin McCourty to be able to slide back to corner to play across from Aqib Talib. In Elam, New England is getting a solid ball-hawking, big-hitting safety who is solid in coverage or run stopping. He's a little short at 5'10, so the elite tight ends in the league might take advantage of that. Elam also goes for big hit too much, so better tackling fundamentals might help as well.
30. Atlanta Falcons - Tyler Eifert (TE) Notre Dame
Photo credit: fivewidesports.com
Well, the rich just get richer. I have Atlanta taking
Tyler Eifert
out of Notre Dame, adding to an already potent offense. Clearly, this is a pick for next year when Tony Gonzalez retires. But in the mean time, it gives Matt Ryan two fantastic tight ends and makes Atlanta that much more scary. The Falcons could mimic a New England style attack, but with better wide receivers on the outside. Athletic and with good hands, Eifert's blocking is only okay at best. With his size and ability and in this offense, look for him to have a great season this year and dominate after that when Gonzalez retires.
31. San Francisco 49'ers - Margus Hunt (DE) SMU
Photo credit: SI.com
After his showing at the combine,
Margus Hunt
proved he's an athletic freak. Hunt is extremely raw, but will have time to develop on the defending NFC Champions. He can play DE across from Justin Smith. Hunt is extremely strong and has a great rush up field. At 6'8", he is a massive man and great fit in the 3-4. Hunt will add even more pass rush to a team that has more then enough.
32. Baltimore Ravens - Zack Ertz (TE) Stanford
Photo credit: sfgate.com
With both of Baltimore's tight ends being restricted free agents and have yet to sign,
Zack Ertz
makes a ton of sense here. Ertz is an upgrade on both tight ends he might be replacing. He is a solid all around tight end in the mould of Heath Miller, but with a little more explosiveness. Ertz gives Joe Flacco a go to guy at the goal line. If both tight ends are resigned, look for cornerback Jamar Taylor from Boise St. to be picked here.
So, there you have it. That's what I think will happen in the first round. Do you agree or disagree? Should someone be higher or did I reach? Sound off in the comment section below.
Be sure to follow the new Sports by Schmucks Twitter page for updates on when new articles will be posted.