So, I will admit I did slack a bit with the prospect write ups for this year's upcoming NBA Entry Draft. But with the lottery taking place just last week and the draft order set, I figure I should at least get my NBA Mock Draft in before the draft takes place and Sean and Brett yell at me some more (kind of joking, but not really).
So here is it. The first and only mock draft for this season. I make good picks.
With a draft that contains an amazing and vast amount of talent at multiple positions, this is going to be a draft that is wide open with picks. Teams tend to focus on the best player available, but as a GM this season, do you pick the top rated prospect overall or do you do your job and draft the best player at the position your team needs?
This year's draft order: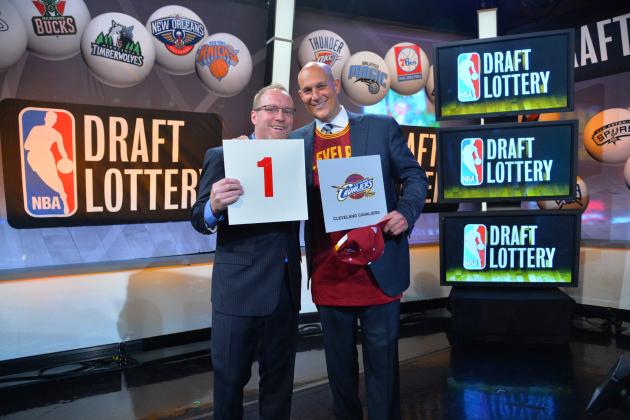 1. Cleveland Cavaliers - Jabari Parker (SF, 6-8, 235lbs, Duke, Fr.)
The
Cleveland Cavaliers
' lottery luck continued into 2014 as they won the No. 1 pick Tuesday for the third time in four years, despite having 1.7 per cent odds.
The Cavaliers could try to trade the pick to acquire a proven player. Or, they could keep it and make the safe pick by taking Duke forward
Jabari Parker
, who could help them make the playoffs for the first time since
LeBron James
' departure. Kansas centre
Joel Embiid
's back issues are a concern and Kansas guard Andrew Wiggins probably will need time to develop. Cleveland All-Star guard
Kyrie Irving
probably wouldn't mind a fellow Duke player joining him.
2. Milwaukee Bucks - Joel Embiid (C, 7-0, 240lbs, Kansas, Fr.)
Joel Embiid is a game-changer, but his back is a concern. He has star- and franchise-player potential. Embiid is going to be a dominant player down low, and should provide some decent defensive play to a team that averaged near the bottom of the league for most points against per game last season.
3. Philadelphia 76ers - Andrew Wiggins ( SG/SF, 6-8, 200lbs, Kansas, Fr. )
This is the young man everyone is blasted with
on Canadian coverage
. From the Toronto area, Andrew Wiggins is presented as a high-intensity, high-flying, and highly sought after player in this years draft. What people see on TV is a ton of propaganda behind him. He is no doubt part of a talented draft class, but not as great as he is made out to be. People need to look at the entire picture here. We barely get college basketball on TV here in Canada, unless you have all the sports packages through your providers. Teams have definitely noticed that he became more assertive, aggressive and confident as his freshman season went on. Wiggins has amazing athleticism and a huge upside. However, he will probably take a longer period of time to develop in comparison to other members of this drat class.
4. Orlando Magic - Dante Exum (PG, 6-6, 196lbs, Australia)
Exum is a player who teams really haven't been able to send scouts and watch like they would in the NCAA. A mystery player if you'd like to call it that. He provides great speed and passing ability from what's been seen in game film from Australia. He's long and athletic, and will be a great pairing to add to last years' pick of Victor Oladipo to solidify a formidable back court for the future.
5. Utah Jazz - Aaron Gordon (PF, 6-9, 220lbs, Arizona, Fr.)
Utah has a couple different options here with Julius Randle, Noah Vonleh and — who I think they ultimately choose — Aaron Gordon. Gordon plays to win. He played for Arizona, not for Gordon. He is a tremendous passer for a guy his size and will provide his drafting team with a unique ball-handler and excellent rebounder.
6. Boston Celtics - Noah Vonleh (PF, 6-9, 247lbs, Indiana, Fr.)
Noah Vonleh is one of the younger prospects in this draft at 18 years old. He's young and he has huge hands. Vonleh has a big body and can shoot from outside. His only downfall in my opinion is that he is not a great athlete.
7. LA Lakers - Marcus Smart (PG, 6-3, 227lbs, Oklahoma State)
Marcus Smart had a lot of distractive factors this past season. He has such a strong track record that his incident with the fan is viewed as an anomaly. With a highly talented PG like himself, distractions are something you need to overcome daily in the NBA. Playing behind and being mentored by a Steve Nash / Kobe Bryant tandem in Hollywood is a perfect way to have him learn and take his game to the next level. This could easily be one of the steals in the draft.
8. Sacramento Kings - Doug McDermott (SF, 6-7, 220lbs, Creighton, Sr.)
No relation to fellow writer and podcast co-host Sean on this one, but if it was our good friend here at Sports By Schmucks should be impressed. Being the son of a coach, he is going to find a way to score. He might not have a position set in stone, but he is a smart team defender.
9. Charlotte Hornets - Jusuf Nurkic (C, 6-11, 280lbs, Cedevita Zagreb)
He's like a DeMarcus Cousins type in size and offensive game. He plays more athletic and swift than you would expect for a guy that's 280 lbs. This type of player could easily help a team with a young dynamic point guard like Kemba Walker in continuing to develop their future.
10. Philadelphia 76ers - Julius Randle (PF, 6-9, 250lbs, Kentucky, Fr.)
Philly in my opinion may have one of the best drafts once we're all said and done. Pulling in a player like Wiggins or even Parker if they flip spots, and grabbing a guy who should easily have been a top-5 pick slip down to 10th is a God-send. If he were to slide down to 10th, it would be because he's a high turnover guy who is not the most skilled. He got by in college by bullying for points, which is something 76er fans would enjoy on their team.
Here are the 11-30 picks:
11. Denver Nuggets - James Young (SG, 6-7, 213lbs, Kentucky, Fr.)
12. Orlando Magic - Dario Saric (SF-PF, 6-10, 223lbs, Cibona Zagreb)
13. Minnesotta Timberwolves -

Nik Stauskas (SG, 6-6, 207lbs Michigan, So.)
14. Phoenix Suns - Tyler Ennis (PG, 6-3, 182lbs, Syracuse, Fr.)
15. Atlanta Hawks - Adreian Payne (PF, 6-10, 239lbs, Michigan St, Sr.)
16. Chicago Bulls - Gary Harris (SG , 6-4, 205lbs, Michigan St, So.)
17. Boston Celtics (Brooklyn) - T.J. Warren (SF, 6-8, 220lbs, NC State, So.)
18. Phoenix Suns (Washington) - Zack LeVine (SG, 6-6, 181lbs, UCLA, Fr.)
19. Chicago Bulls -
Kristaps Porzingas (PF/C, 7-0, 220lbs, Spain Sevilla)
20. Toronto Raptors -
Clint Capela (PF, 6-11, 222lbs, France Chalone)
21. OKC Thunder - Rodney Hood (SG/SF, 6-8, 208lbs, Duke, So.)
22. Memphis Grizzlies - K.J. McDaniels (SF, 6-6, 196lbs, Clemson, Jr.)
23. Utah Jazz (Golden State) - Kyle Anderson (SF, 6-8, 220lbs, UCLA, So.)
24. Charlotte Hornets (Portland) - Elfrid Payton (PG, 6-4, 185lbs, Louisiana-Lafayette, Jr.)
25. Houston Rockets - Jordan Admas (SG, 6-5, 209lbs, UCLA, So.)
26. Miami Heat - Shabazz Napier (PG, 6-1, 175lbs, UCONN, Sr.)
27. Phoenix Suns (Indiana) -
Bogdan Bogdanovic (PG/SG, 6-6, 200lbs, Serbia Partizan)
28. LA Clippers - P.J. Hairston (SG, 6-5, 229lbs, Texas Legends, D-League)
29. OKC Thunder -
Damien Inglis (SF-C, 6-8, 240lbs, France Roanne)
30. San Antonio Spurs -
Mitch McGary (C, 6-10, 263lbs, Michigan, So.
)
So that's it 30 picks made for this year's draft. Let's see if I'm even remotely close.