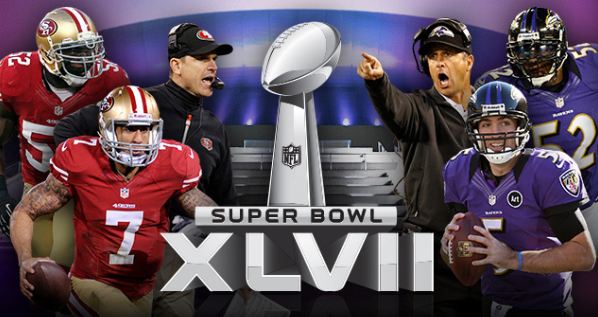 Super Bowl XLVII is tomorrow. The Baltimore Ravens will play the San Francisco 49ers in what has been dubbed the "HarBowl". It's the first time that two brothers will coach against each other to decide the Lombardi Trophy. So, since this is a sports blog, here are some of the contributors' picks for the Super Bowl.
In a text from
Kieran Blair (@thekieranblair)
, he simply said: "
49ers
because they've got a more dynamic offense. Defence will cancel each other."
Chris Lejambe (@Lejambo) -
I, Chris Lejambe, hereby declare the Baltimore Ravens to be victorious in Superbowl XLVII by a score of 27-24. I predict such a victory because of one man, Ray Lewis. His last game in the league and possibly his final championship ring I think will prove to be the X-Factor that gives the Ravens the edge in score. I believe his team wants him to win that coveted ring in his final game as much as he does and I look for them to play their best game as a team when it matters most. Defeating the San Francisco 49ers will be no easy task so they will have to play their best game yet if they have any hopes of a win.
Sean McDermott (@sean_mcd2) -
I see a 24-17 victory for the San Francisco 49ers, crushing the Baltimore Ravens' hope of winning the big one for their heart and soul - Ray Lewis. I see Colin Kaepernick giving the Ravens' defense fits with his speed and arm; a huge game by Vernon Davis who's speed will cause nightmares for the Ravens' safeties and linebackers; and the 49ers' defense - led by Patrick Willis - to be in Joe Flacco's face all game. I predict Kaepernick will be the games' MVP, with 278 yards passing. 2 TDs, 1 INT, 78 rushing yards, and a touchdown. Enjoy the game everybody it should be a doozy!
Brett Smith (@bdot10) -
I've been playing with this pick in my head for the past week. Baltimore has the team of destiny angle, trying to give Ray Lewis one last ride before his retirement. To counter, Colin Kapernick has shown no fear for the 49ers so far since taking over the starting quarterback position from Alex Smith. When I eventually decided on a pick, I looked at Week 14. RG3 led the Redskins to a 31-28 come-from-behind victory with his arm and his legs. Since the Niners and the Redskins like to run the read option, you could see a similar outing from Kaepernick. So, I'm picking San Fran? As Lee Corso would say, "Not so fast!" The Ravens defense has now seen the read option. With plenty of veterans in the line-up, I think they overcome the new fad of Kaepernicking. 24-20 Ravens. One of the Rays (Rice or Lewis) is Super Bowl MVP.
And our newest schmuck, Mike Saratsiotis, predicts a 35-24 Ravens win.
So, there you have it. A 3-2 edge to the Baltimore Ravens. What do you, the readers, think will happen?